| | |
| --- | --- |
| #NCPAStudentStrong | November 2021 |
---
NCPA Student Ownership Bootcamp
The NCPA Student Ownership Bootcamp on Nov. 13 features experts on industry finances, entrepreneurship, and key steps to starting your pharmacy and what you can do to prepare for ownership as a student. Registration is NOW OPEN and closes Nov. 12 at noon ET. Can't make it? Registration is also open for our next virtual bootcamp on Jan. 22. Find more information and updates on our website.
---
NCPA Association Management and Community Pharmacy Residency Webinars are coming up!
What have you heard about a career or residency in association management? These unique roles are a springboard into careers in associations, corporations, government, and in community pharmacy ownership. On Nov. 17, at 8 p.m. ET, NCPA will host current residents and fellows from several associations to share their experience and information about their program. Don't miss out on this great opportunity and register here!
Are you considering or preparing for a community pharmacy residency? Registration is now open for NCPA's Community Pharmacy Residencies and Fellowships Webinar. We'll feature programs from across the country in one place to talk about their programs and the benefits of completing a community-based residency before beginning independent practice as a pharmacist. Register here for the webinar on Nov. 18, at 8 p.m. ET.
---
NOW LIVE! Chapter rosters available in real time
Chapter presidents are now organization administers and can now obtain their chapter rosters on ncpa.org. All chapter presidents must be national members in order to retrieve their roster. Please watch this video to get started. Did you enjoy this video? Be sure to like and comment on YouTube for more content like this. Need to reference the video later? It can be found on our chapter resources page. Contact studentaffairs@ncpa.org for any further questions.
---
Applications open for the NCPA Executive Residency
Applications are now open for the NCPA executive residency! The executive residency is a great way for new grads to start careers in association management, ownership, or innovative practice. Find more information on our website, and contact current resident, Jessica Satterfield, or residency director, Hannah Fish, with questions. Apply here by Dec. 31.
---
Elective APPE Rotation at NCPA
There are limited spots for an APPE at NCPA in association management. Students have the opportunity to spend several weeks learning about practice transformation, advocacy, education programs, and dive into their areas of interest. Applications are due Dec. 31 and can be found here.
---
NCPA Summer Internship
The NCPA Summer Internship Program, co-sponsored by the NCPA Foundation, provides student pharmacists an opportunity to gain in-depth experience at a national pharmacy association and the opportunity to learn more about independent community pharmacy practice. Applications are due Dec. 31. Click here for more information.
---
SLC Townhall Series
The NCPA Student Leadership Council is excited to continue offering an innovative webinar series for our student members. The townhalls will take place the 2nd Monday of every month (except for Feb. when it conflicts with Valentine's Day) at 8pm ET. Some of the topics we will cover are Annual Preparation (Networking 101), the Business Plan Competition, and opportunities to work with NCPA. Keep checking the e-newsletters to register for the upcoming topics. Access recordings from previous Townhalls on How to Get a Student Leadership Council Position, Networking 101, CPESN® and Flip the Pharmacy, and more here!
Register for our November Townhall, NCPA Foundation (Scholarships, Summer Intern, APPE)
---
Upcoming PCCA Student Boot Camp
Have an interest in compounding? PCCA is hosting boot camps at their newly renovated education lab in Houston on the following dates:
PCCA Institute's two-day, onsite Boot Camp introduces students to unique dosage forms, basic compounding techniques, regulatory updates, and quality and safety aspects used by contemporary compounding pharmacists. Students are enlightened to the reality and feasibility of opening their own compounding pharmacy and inspired to think of compounding as a viable, rewarding, and fulfilling career pathway. For more information, click here, or email Dr. Bindhu Batra.
---
PCCA school visits
Interested in hearing more about the wonderful world of compounding? PCCA offers the unique opportunity to have a representative speak to your NCPA Student Chapter to help educate students on compounding and promote further student training. Help open students' eyes to how pharmacists can help meet patient needs through this unique area in pharmacy.
If this is something of interest to your chapter, please email Dr. Bindhu Batra for more details and she would be happy to coordinate a virtual visit. Please note that fall availability is booked, but she is happy to book for spring 2022.
---
Connect with your Student Leadership Council Representative
Find your chapter's region representative contact information here to schedule a chapter visit or officer meeting. Student Leadership Council exists to represent you as a member at the national association. Use your representative as a resource for strengthening your student chapter. Interested in becoming a Student Leadership Council Representative? Contact your region's representative to learn more about the position. Applications are due Dec. 31.
---
2022 Community Pharmacy Scholarship supported by Pharmacists Mutual
Applications are now open for the 2022 Community Pharmacy Scholarship supported by Pharmacists Mutual! Recipients selected will each be awarded $3,000. Up to $60,000 in scholarships may be awarded for this academic year. Applications are due Dec. 1.
TO BE ELIGIBLE TO APPLY for the Pharmacists Mutual Community Pharmacy Scholarship, students must meet the following criteria:
Current students must be a P3 or P4 pharmacy student in the 2022-2023 academic year

Eligible students must plan to practice in one of the following settings:

An independent or small chain community pharmacy, or

An underserved geographic or cultural community, preferably in an independent or small chain community pharmacy
---
Graduating from pharmacy school in 2022?
Don't forget to take advantage of the membership discounts we have for final year student pharmacists and recent pharmacy school graduates. Here's a pdf that summarizes them all! Use the JotForm link to renew your membership today!
Some of the highlights include receiving a copy of "Opening a Pharmacy" or "Buying a Pharmacy" from our bookstore when you take advantage of the final year student pharmacist member rate by paying for your last year of student membership and your first year of recent pharmacy school graduate membership in one go. That is a $100 value added! Graduating this year? Your first year out of school is only $55 to renew your membership!
Don't miss these great opportunities to stay involved at NCPA and continue to help move the practice of pharmacy forward.
---
How to communicate about COVID-19 with refugee, immigrant, and migrant communities
Check out these resources from the National Resource Center for Refugees, Immigrants, and Migrants (NRC-RIM) about the best ways to encourage confidence in the COVID-19 vaccines. They can be found here, here, and here.
---
Weight bias in student pharmacists survey
We are pleased to invite you to participate in a research survey study entitled, "Weight Bias Among Pharmacists and Student Pharmacists". This is a research project being conducted by Hannah Johnson, PharmD, from the University of Kentucky College of Pharmacy. Your responses may help us gain a better understanding of implicit and explicit weight bias and fatphobia within the pharmacy profession. We would greatly appreciate you taking the time to complete the survey here.
---
NCPA student lapel pins available for purchase
The NCPA Student Affairs department understands the time, effort, and commitment involved in becoming a chapter officer. That is why we offer NCPA chapter officer pins. Each chapter officer can receive a lapel pin that signifies their support and dedication to independent community pharmacy and NCPA. These pins are excellent tokens to distribute at your chapter officer installation ceremony. At $7.50 each, there is minimal cost to the chapter. For $5 each, ALL your members can show their support of independent community pharmacy by wearing the NCPA lapel pin.
Complete the order form and return to the NCPA Foundation with payment. Contact the NCPA Foundation at ncpaf@ncpa.org or call 703-838-2653 with any questions or to pay by credit card.
---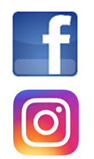 We have new Facebook and Instagram pages!
Early this year we launched NCPA Student Pharmacists — the new Facebook page and Instagram account made just for you. Look for @ncpastudents on both platforms and like/follow for great content including member highlights and upcoming events. Does your chapter have a Facebook or Instagram page? Be sure to have them like/follow us as well.
---


To unsubscribe from promotional emails and surveys but continue to receive important updates about community pharmacy issues, click here to manage your subscription preferences.

To unsubscribe from all NCPA emails, including alerts on developments impacting community pharmacies, click here.
[[tracking_beacon]]