| | |
| --- | --- |
| #NCPAStudentStrong | July 2021 |
Chapter Officer Training

The Student Leadership Council is excited to host an officer training for all chapter officers and committee chairs on August 9th at 8pm ET. We will be talking about how to prepare your chapter for the upcoming year, End-of-the-Year reports, NCPA Annual Convention in Charlotte, and much more! Register here.

---
NCPA 2021 Annual Convention
Join us LIVE in Charlotte, NC for the NCPA 2021 Annual Convention on Oct. 9-12, 2021. Student member rates start at $265, and student non-members at $315 (includes a one-year NCPA membership!). Student programming includes the 18th Annual Good Neighbor Pharmacy NCPA Pruitt-Schutte Student Business Plan Competition, personal finance for student pharmacists, networking, and more!

Register here.
---
Connect with your Student Leadership Council Representative
We are so excited to officially welcome our new team of Junior SLC members! Find your chapter's region representative contact information here to schedule a chapter visit or officer meeting. Student Leadership Council exists to represent you as a member at the national association. Use your representative as a resource for strengthening your student chapter. Interested in becoming a Student Leadership Council Representative? Contact your region's representative to learn more about the position. Applications will be due in December.
---
SLC Townhall Series
The Student Leadership Council is excited to continue offering an innovative webinar series for our student members. The Townhalls will take place the 2nd Monday of every month (except for Oct and Feb when it conflicts with convention and Valentine's Day, respectively) at 8pm ET. Some of the topics we will cover are Annual Preparation (Networking 101), the Business Plan Competition, and opportunities to work with NCPA! Keep checking the eNewsletters to register for the upcoming topics.
Register for our September Townhall, NCPA Annual Preparation (Networking 101)
Register for our October Townhall, How to Get a Student Leadership Council Position
---
PCCA Introductory Compounding Boot Camps in Houston
PCCA Institute's two-day, on-site Boot Camp introduces students to unique dosage forms, basic compounding techniques, regulatory updates, and quality and safety aspects used by contemporary compounding pharmacists. Attendees will get hands-on experience in PCCA's newly renovated education lab, with equipment and technology designed to simulate a compounding environment based on the latest USP guidelines.
Boot camp graduates are eligible to complete PCCA Institute's Advanced and Veterinary Compounding Lab courses.
Following updated cleaning/disinfecting guidance from the U.S. Environmental Protection Agency (EPA) and the Centers for Disease Control and Prevention (CDC), PCCA has put several measures into place. Click here for more details.
Upcoming dates and registration links: Aug. 9-10
---
PCCA Scholarship Contest
The PCCA Institute wants to hear your answer to "What does the compounding pharmacy of the future look like?" If you're chosen you will be flown out to Houston, TX for their International Seminar in October and present it on the main stage! The applications are due August 30th. For more information go here.
---
Attention: Recent Pharmacy School Grads!
Here's an exciting fellowship opportunity located in Boyertown, PA. You'll help Medicine Shoppe of Boyertown with expanding their clinical services and introducing new ones to their pharmacy. Check it out!
---
Job Posting: Associate Director, Educational Programming
Alexandria Healthcare Association is seeking experienced candidates for Associate Director, Educational Programming. The position will be reporting to the Senior Director, Program Development. The NCPA education team aims to foster the advancement of community pharmacy practice by providing practical, business-focused CE and non-CE programming for community pharmacy teams. As a key member of the education team, the candidate will be responsible for leading education and strategic initiatives as assigned, managing projects with multiple stakeholders, developing innovative programming, and coordinating logistics as needed. In addition, the Associate Director serves as the staff lead for the NCPA Steering Committee process and works closely with the NCPA Innovation Center to lead or support other strategic initiatives focused on the advancement of pharmacy practice as opportunities arise. The candidate should have a working knowledge of the business and professional issues of the community pharmacy market, excellent project management and organizational skills, and a willingness to learn NCPA's learning management system as well as continuing education standards and criteria (ACPE-Accreditation Council for Pharmacy Education). Some travel required; exposure to non-profit association is a plus. Excellent benefits; salary commensurate with experience.
Send resume, cover letter and salary requirements to Beverly.Martin@ncpa.org.
Resumes submitted without salary requirements will not be considered.
---
Graduating from pharmacy school in 2022?
Don't forget to take advantage of the membership discounts we have for final year student pharmacists and recent pharmacy school graduates. Here's a pdf that summarizes them all! Use the JotForm link to renew your membership today!
Some of the highlights include receiving a copy of "Opening a Pharmacy" or "Buying a Pharmacy" from our bookstore when you take advantage of the final year student pharmacist member rate by paying for your last year of student membership and your first year of recent pharmacy school graduate membership in one go. That is a $100 value added! Graduating this year? Your first year out of school is only $55 to renew your membership!
Don't miss these great opportunities to stay involved at NCPA and continue to help move the practice of pharmacy forward.
---
NCPA Foundation COVID-19 Vaccination Administration Student Survey
Interested in volunteering to administer COVID-19 vaccines in your community? The NCPA Foundation is seeking to identify pharmacy students to help community pharmacists with their COVID-19 vaccination efforts. If you are a pharmacy student interested in volunteering with a pharmacy, please complete this survey. Please contact the NCPA Foundation at ncpaf@ncpa.org or call 703-838-2653 for additional information.
---
How to Communicate about COVID-19 with Refugee, Immigrant, and Migrant communities
Check out these resources from the National Resource Center for Refugees, Immigrants, and Migrants (NRC-RIM) about the best ways to encourage confidence in the COVID-19 vaccines. They can be found here, here, and here.
---
NCPA student lapel pins available for purchase
The NCPA Student Affairs department understands the time, effort, and commitment involved in becoming a chapter officer. That is why we offer NCPA chapter officer pins. Each chapter officer can receive a lapel pin that signifies their support and dedication to independent community pharmacy and NCPA. These pins are excellent tokens to distribute at your chapter officer installation ceremony. At $7.50 each, there is minimal cost to the chapter. For $5 each, ALL your members can show their support of independent community pharmacy by wearing the NCPA lapel pin.
Complete the order form and return to the NCPA Foundation with payment. Contact the NCPA Foundation at ncpaf@ncpa.org or call 703-838-2653 with any questions or to pay by credit card.
---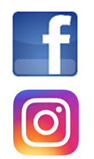 We have new Facebook and Instagram pages!
This month we launched NCPA Student Pharmacists — the new Facebook page and Instagram account made just for you. Look for @ncpastudents on both platforms and like/follow for great content including member highlights and upcoming events. Does your chapter have a Facebook or Instagram page? Be sure to have them like/follow us as well.
---


To unsubscribe from promotional emails and surveys but continue to receive important updates about community pharmacy issues, click here to manage your subscription preferences.

To unsubscribe from all NCPA emails, including alerts on developments impacting community pharmacies, click here.
[[tracking_beacon]]