| | |
| --- | --- |
| #NCPAStudentStrong | August 2021 |
---
NCPA 2021 Annual Convention
Join us LIVE in Charlotte, NC for the NCPA 2021 Annual Convention on Oct. 9-12, 2021. Student member rates start at $265, and student non-members at $315 (includes a one-year NCPA membership!). Student programming includes the 18th Annual Good Neighbor Pharmacy NCPA Pruitt-Schutte Student Business Plan Competition, personal finance for student pharmacists, networking, and more!

Register here.
---
NCPA Innovation in Community Practice Poster Symposium
Are you involved in community pharmacy research? Did you compete in the student business plan competition? Are you a chapter officer or advisor with updates? Apply here by Sunday, Sept. 12, 11:59 p.m. ET for the Innovation in Community Practice Poster Symposium! The Innovation in Community Practice Poster Symposium is intended to showcase students, residents, independent community pharmacists who are developing community practice solutions in health care through innovative ideas and research. More information is available on our website.
---
SLC Townhall Series
The Student Leadership Council is excited to continue offering an innovative webinar series for our student members. The townhalls will take place the 2nd Monday of every month (except for Oct and Feb when it conflicts with convention and Valentine's Day, respectively) at 8pm ET. Some of the topics we will cover are Annual Preparation (Networking 101), the Business Plan Competition, and opportunities to work with NCPA. Keep checking the e-newsletters to register for the upcoming topics.
Register for our September Townhall, NCPA Annual Preparation (Networking 101)
Register for our October Townhall, How to Get a Student Leadership Council Position
---
PCCA Scholarship Contest
The PCCA Institute wants to hear your answer to "What does the compounding pharmacy of the future look like?" If you're chosen you will be flown out to Houston for their International Seminar in October and present it on the main stage. The applications are due August 30. For more information go here.
---
PCCA Veterinary Compounding Online Course
PCCA is excited to offer their Veterinary Compounding Online Course this fall with or without the lab component. This course is a great way to make sure you are continuing to set yourself apart before you graduate. The online portion is very doable, and many students balance this very interesting course along with their usual course load. If you have any concerns about managing the course, please reach out. As a bonus, many pharmacy schools do offer elective credit for these courses, so be sure to look into that option as well. The syllabus for each course is linked below. Remember, these courses are only available to you while you are in pharmacy school. Be sure to take advantage of this extra education! Please email Bindhu Batra at if you need more information.
Here is some basic information about the two options:
Veterinary Compounding Online Course
This 10-week online course consists of 10 modules on veterinary pharmacotherapy as related to compounding. Students will learn about the anatomy, physiology, disease states, and drug therapy for various species including canine, feline, equine, and exotic animals.
Veterinary Compounding Online Course and Veterinary Compounding Lab
This combination course offers a discounted option for the 10-week online course described above plus a 2-day lab at PCCA. In addition to the 10 online modules on veterinary pharmacotherapy, attendees will also be able to compound formulas for a variety of animals in the newly renovated PCCA education lab, with equipment and technology designed to simulate a compounding environment based on the latest USP compounding guidelines. Guest lectures and hands-on demonstrations with live animals are part of the fun!
Online course opens on Sept. 13 with weekly deadlines.

PCCA Boot Camp is a prerequisite.

Lab dates: Dec. 13-14, 2021

Lab location: PCCA's training facility in Houston
---
Add in PCCA school visits
Interested in hearing more about the wonderful world of compounding? PCCA offers the unique opportunity to have a representative speak to your NCPA Student Chapter to help educate students on compounding and promote further student training. Help open students' eyes to how pharmacists can help meet patient needs through this unique area in pharmacy.
If this is something of interest to your chapter, please email Dr. Bindhu Batra for more details and she would be happy to coordinate a virtual visit.
---
Connect with your Student Leadership Council Representative
We are excited to officially welcome our new team of Junior SLC members! Find your chapter's region representative contact information here to schedule a chapter visit or officer meeting. Student Leadership Council exists to represent you as a member at the national association. Use your representative as a resource for strengthening your student chapter. Interested in becoming a Student Leadership Council Representative? Contact your region's representative to learn more about the position. Applications are due Dec. 31.
---
2022 Community Pharmacy Scholarship supported by Pharmacists Mutual
Apply October 1 – December 1, 2021. Recipients selected will each be awarded $3,000. Up to $60,000 in scholarships may be awarded for this academic year.
TO BE ELIGIBLE TO APPLY for the Pharmacists Mutual Community Pharmacy Scholarship, students must meet the following criteria:
Current students must be a P3 or P4 pharmacy student in the 2022-2023 academic year

Eligible students must plan to practice in one of the following settings:

An independent or small chain community pharmacy, or

An underserved geographic or cultural community, preferably in an independent or small chain community pharmacy
---
Graduating from pharmacy school in 2022?
Don't forget to take advantage of the membership discounts we have for final year student pharmacists and recent pharmacy school graduates. Here's a pdf that summarizes them all! Use the JotForm link to renew your membership today!
Some of the highlights include receiving a copy of "Opening a Pharmacy" or "Buying a Pharmacy" from our bookstore when you take advantage of the final year student pharmacist member rate by paying for your last year of student membership and your first year of recent pharmacy school graduate membership in one go. That is a $100 value added! Graduating this year? Your first year out of school is only $55 to renew your membership!
Don't miss these great opportunities to stay involved at NCPA and continue to help move the practice of pharmacy forward.
---
How to Communicate about COVID-19 with Refugee, Immigrant, and Migrant communities
Check out these resources from the National Resource Center for Refugees, Immigrants, and Migrants (NRC-RIM) about the best ways to encourage confidence in the COVID-19 vaccines. They can be found here, here, and here.
---
NCPA student lapel pins available for purchase
The NCPA Student Affairs department understands the time, effort, and commitment involved in becoming a chapter officer. That is why we offer NCPA chapter officer pins. Each chapter officer can receive a lapel pin that signifies their support and dedication to independent community pharmacy and NCPA. These pins are excellent tokens to distribute at your chapter officer installation ceremony. At $7.50 each, there is minimal cost to the chapter. For $5 each, ALL your members can show their support of independent community pharmacy by wearing the NCPA lapel pin.
Complete the order form and return to the NCPA Foundation with payment. Contact the NCPA Foundation at ncpaf@ncpa.org or call 703-838-2653 with any questions or to pay by credit card.
---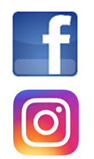 We have new Facebook and Instagram pages!
This month we launched NCPA Student Pharmacists — the new Facebook page and Instagram account made just for you. Look for @ncpastudents on both platforms and like/follow for great content including member highlights and upcoming events. Does your chapter have a Facebook or Instagram page? Be sure to have them like/follow us as well.
---


To unsubscribe from promotional emails and surveys but continue to receive important updates about community pharmacy issues, click here to manage your subscription preferences.

To unsubscribe from all NCPA emails, including alerts on developments impacting community pharmacies, click here.
[[tracking_beacon]]